Equine Assisted Activities (EAA)
Equine Assisted Activities offer a powerful and optimal approach that has proven to have a significant impact on individuals, youth, families and groups with a variety of mental health and human development needs. EAA programs are designed to partner individuals with horses in order to enhance communication, trust, positive assertiveness and wellness, while also building social skills, self-confidence and self-esteem.
EAA Programs offer a unique approach which:
Re-patterns and structures new brainstem development

Offers an effective way for individuals to move toward a path of emotional recovery

Provides personal exploration, mindfulness, emotional fitness, relationship building and improved communication skills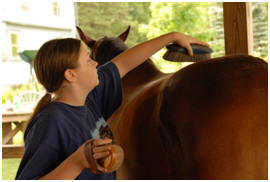 If you are looking for new challenges and personal growth, our Equine Assisted Activities at the Flying Horse Stable are provided in a physically and emotionally safe environment, providing you with the opportunity to feel the connection with our horses in their natural environment.
Your involvement in horse-centered activities provides an immediate "here and now" interaction with the horses that reflects their individual feelings and behaviors. These interactions are surprisingly similar to issues we all experience in everyday life. After sharing and discussing the thoughts, feelings and experiences "of the moment", you acquire new personal insight and understanding, which lead you to naturally pattern healthy behaviors and a positive life style.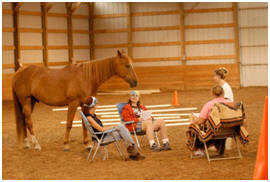 Mutually respectful activities between you and the horse may include observation, handling, grooming, lunging, round pen work and general horse care. Flying Horse Stable also offers a variety of reflective programs such as trail walks or rides, a hero's journey/adventure, the discovery of a horse's energy field, music, journaling and expressive arts.
Your horse human partnership is the focus of EAA activities. You need to learn and apply certain skills in order to develop this partnership with horses. Non-verbal communication, assertiveness, creative thinking, problem solving, leadership, taking responsibility, teamwork, confidence and attitude are several examples of the skills which can be developed. These skills have far reaching applications linked to increased success and personal well-being.
Personal interactive experiences are facilitated by a collaborative team which may include a combination of two or more of the following: a trained counselor, a certified therapeutic riding instructor, a horse professional or trained volunteers. Flying Horse Stable's trained staff and horses are flexible and ready to modify or enhance the session structure and activity choices to flow with changes that may occur in nature or with the individual on any given day.