Equine Assisted Ground Activities - EAA
(does not include riding)
Learn about verbal and nonverbal communication experienced through interacting with and developing a partnership with the horse. Develop a personal plan to implement these communication and partnership skills into your daily life.
At the Flying Horse Stable we believe interactions between horses and humans provide an opportunity to observe and learn from horse behavior. These interactions become the foundation for enhancing: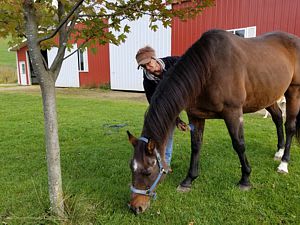 relationships
communication
trust
mutual respect
positive assertiveness
setting boundaries
problem solving
increased self-confidence
EAA offers a unique approach which:
re-structures new thought patterns
offers an effective way for individuals to gain personal strength and wellbeing
encourages positive life coping skills(self-help, stress management, depression, anxiety)
promotes laughter and playfulness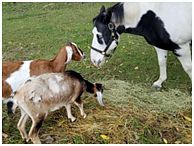 The Flying Horse Stable strives to bring out a sense of playfulness and relaxation, offering a safe time and place to explore your personal journey.
The Flying Horse Stable programs adhere to the standards and ethics developed by the Professional Association of Therapeutic Horsemanship, International (PATH, Int.). Programs also follow standards and guidelines for Certified Equine Interactive Professional – Education (CEIP-ED).

Weekly 1 hour sessions take place in the spring, summer and fall. Activities are offered in the barn, round pen, outdoor/ indoor arenas or on reflective trail walks.